Yes, Apricot Collection has Fashion Style Support for Moms!
If you are a Mom who runs around like a taxi service, gets to your laundry last, and grabs whatever is closest to wear, running out the door with 5 kids, then this is your Moms Fashion Style support.

We know that you look at yourself in the rear view mirror, and wish you had time for a bit more fashion maintenance, and that you would like to grab that nearest outfit that at least says, "Hey, I'm a chic–cool Mom" while the other Moms check your style out at the designated Mom meetup bleacher area.
Things just have to be more simple as Moms, and fashion, design and style in clothing have to be as well, but there are many ways to do very simple things with your style, and still run around like you're losing your mind.  You can be chic and stylish and be super-crazy busy too.
Moms Fashion Style is all about clothing design basics that are timeless, fun, make you feel pretty and hip, and are just so easy.  That's the key…keeping your fashion style so easy. This fashion style is going to give you all those compliments at the Moms meetup, and make those other moms think you have it ALL together.
Moms Fashion Style…
Something happens when you become a busy Mom. The amount of clothing fashion items you need grows smaller, because larger is too complicated.  You really want clothing design that you can wear over and over, you know they fit well, they look great, you can change them up a bit, or you can have 10 of something you really like, because you'll just wear it over and over anyway.
Are we right?
The Moms Fashion Style support you need are simple fashion design ideas, and pieces that you can use again and again, but they always look fresh.
Yes?
Here are some basic fashion clothing design pieces that you can use and wear often, and will give you just enough flair throughout your day…
Let's start with some fashion pants, because these can be the toughest when it comes to fit and comfort, but pants are just so convenient for running around.
As an extra fashion tip, don't be afraid to embrace elastic waist styles, because they can be the most forgiving.  The upper design on pants makes for the difficult fit, and the simple elastic style solves many design problems for many body types.
You will be wearing clothing with very chic-longer tops anyway, and the cut and design down the leg and ankle are key to your Fashion Style statement, like with Apricot's Boho Chic style below…
Fashion…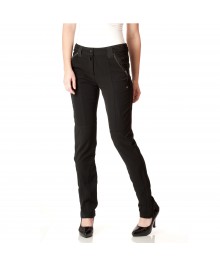 Take this style pair that are all about the  cut and pockets. The drape and fit to the ankle are very flattering.  You can wear these casually during the day with a simple tee, and dress them up at night with a nicer shoe and other accessories.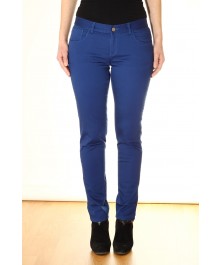 Can you see how a simple skinny pant can look so chic with the right heeled bootie?  You can take any of your day time clothing, and just elevate them into every day hip.  This popping electric blue color look can get very fancy too.  The point is, a skinny leg pant is going to flatter any figure, and give you an extra somethin' somethin'.
Style…
Every Mom needs a punchy top or blouse with either color or graphic print that can either be worn alone or pop under a really great jacket, blazer or vest. Bold prints just automatically give you a statement, and you should have a few favorites…
This one is a Bohemian Tunic, and you can see what we're talking about.  Pretty simple to stand out with this design.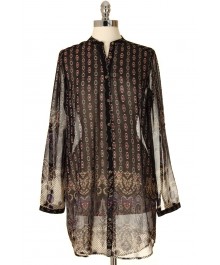 This design is an example of getting multiple use out of one item…
It can be a beach cover up clothing that you can also wear as a longer blouse with just about any pant. The tunic length is great with sandals, shoes or boots. Throw a sweater vest over it, so the sleeves still show that print, and you're doing Mom style either in Spring or Fall. There are countless ways to wear this, and with countless color combos, but that statement print hits a home run every time.
Design…
A sweater vest was mentioned above, and this is another key-staple item to have along with a cardigan.  It allows color and shape to pop on the sleeve by pushing it up, it can be the statement piece, or just blend in, but if you were to wear the same outfit twice, and put on a vest or cardigan the next day, no one would know it's the same underneath.  It can be your game changer, and you just throw it on so quickly running out the door.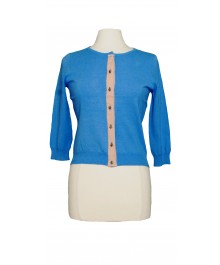 Clothing…
Now on to another staple…a blazer or jacket, and you can't really have too many of these, because they always change your do over again and again look, and even when they go out of style, they will come back again.  Go through your closet, and pull out one you haven't worn in awhile, and now you're going to just throw it over a basic tee and basic pants with a necklace, any shoe and that's it!
Apricot does great jackets like this Classic Tweed…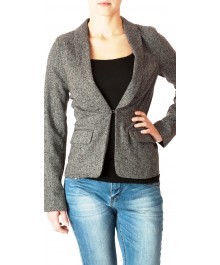 This is a great cut, color and style, but it's the whole look here to take note of.  Flip the collar, fold it down, roll up the sleeves or down, add a belt, throw in some color, put on any favorite necklace, a pair of elastic waist pants with belt loops even, and voila!  You can take this image and outfit, and change out piece after piece of very basic items and favorites in your closet, and you'll always be the chic Mom at the meetup.
Fashion, Style, Design…
Fashion, style and design now get us to shoes, and since we're staying simple as Moms in our style support, We're going to bring it all down to one shoe that will never lead you wrong.
Any color, any heel height, any strap size, etc.  This shoe will not let you down.  You can even find great ones with rubber bottoms for easy walking.
Just imagine how much you could change your outfit with just different color ribbon on these?
So hey you Moms of style fashion longing and crazy town running, you can grab that special somethin' scrambling out the door.  Stick to the basics, but with just a few twists here and there, and you will be that chic Mama you've always wanted to be.
Mom's Fashion Style…It's More Simple Than You Think.

Apricot Collection
Fashion Design Clothing for Moms in Style.